Truevine Missionary Baptist Church is currently in the
YELLOW phase
(see chart below) and OPEN for on-campus activities.
In Person Worship and Classes
ALL activities require an RSVP as capacity is limited to 50 people per service.
Worship services at 9 AM and 10:30 AM

There will be no children's church until further notice

All other meetings and classes will be online
Masks are required for ages 10+. For those not ready to resume in-person worship, the sermon will be made available on our
YouTube page.
See our Gathering Guidelines below
for a full list of precautions to keep you healthy while on campus.
Register Here for Services. Services are limited to 50 people due to social distancing.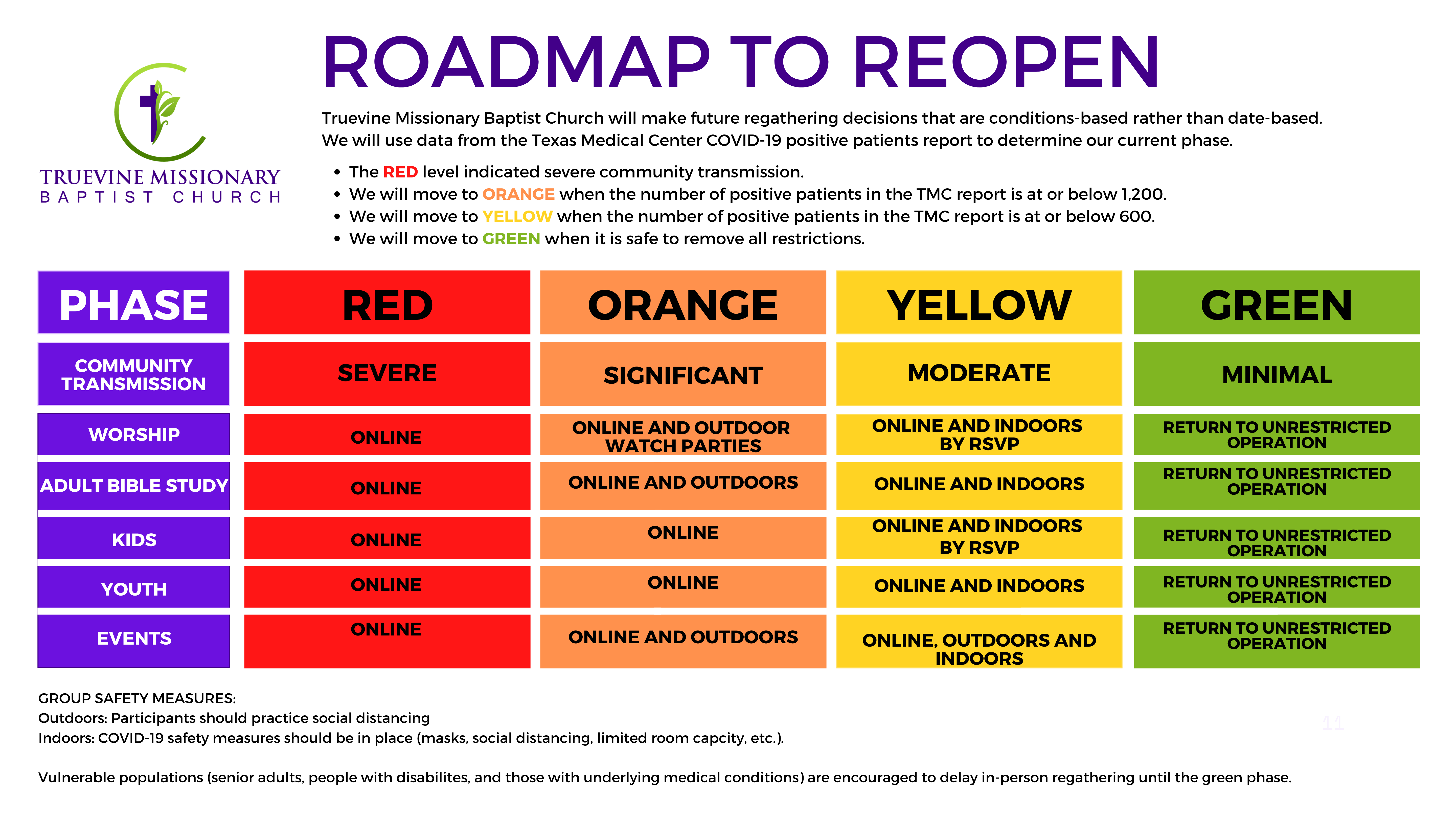 TMBC GATHERING GUIDELINES
KEEP OUR CAMPUS HEALTHY
The following general precautions will be observed across the TMBC campus.
Temperature Checks:

All staff, volunteers, and visitors will have a temperature check when entering the building.
Masks:

Masks are required for everyone ages 10+. There may be some exceptions for teachers or leaders in certain settings.
Social Distancing: 

Social distancing of at least 6 feet should be observed in all common areas, classrooms and in the Sanctuary.
High-Risk Individuals:

All individuals who fall within the high-risk groups as defined by the CDC are encouraged to stay home and worship online. 
Touchless Greeting:

Attendees should practice touchless greeting (no handshakes or hugs). 
Hand Sanitizing Stations:

Hand sanitizing stations are located at entrances to our buildings.
Hand-to-Hand Items:

No items will be passed among attendees, including offering baskets, print materials or other worship items.  
Water:

Water fountains will be closed. Feel free to bring your own.
Sanitization:

All touched surfaces will be sanitized between our worship services and gathering times.